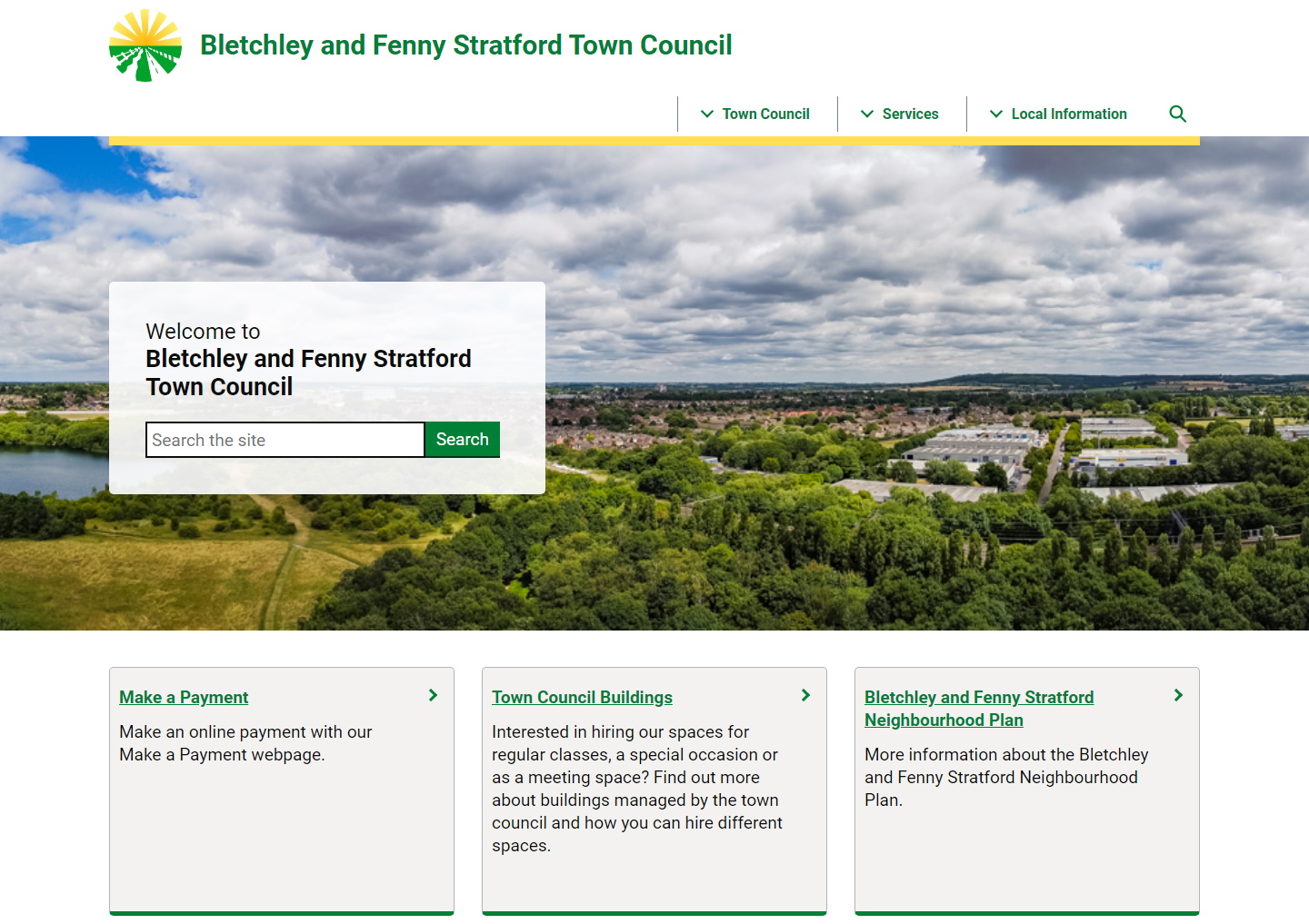 "Zodiac Media exceeded all expectations! They took our brief for the design and delivered a brand-new site that not only looks professional and engaging but has the upgraded functionality that will allow our community to access information quickly and efficiently.

It's been super user-friendly for our staff team to maintain and the Zodiac team are incredibly responsive when support is needed and issues are quickly resolved. We would recommend this fantastic company to anyone who is looking to upgrade or redesign their website."

Bletchley and Fenny Stratford Town Council
Fully featured website on a town council budget
Town councils like Bletchley and Fenny Stratford Town Council (BFSTC) only have a fraction of the website budget of larger councils. However, they must achieve the same accessibility compliance levels and often have the same functionality requirements as their larger counterparts.
With the average three-year council website contract costing a six-figure sum, it often isn't viable for smaller councils to purchase the same feature-set as larger ones.
Why Public Platform
As a software as a service product, Public Platform comes pre-bundled with all the features public sector sites require, rather than having to pay for them to be developed from scratch. Maintenance costs are also similarly reduced. Development, security updates, hosting and support are all included in the low-cost platform fee.
Public Platform has all the council "must haves" available out of the box. We were confident we could produce a website fit for a district council on a town council budget.
Kicking off the process
With all sites, big or small, we start with a "one-day installation" of Public Platform to create the initial site. BFSTC's brand colours and logo were added to personalise the site, with it ready for content population in a day.
Due to the limited budget, BFSTC opted for a manual migration, with only news articles being migrated from their outgoing website via automated scripts.
To help speed along the manual migration, we created some of the more complex page structure and hierarchy. This was then used in an online training session to show what was possible within Public Platform, and help with the restructuring of their existing site content. Access to the documentation and recordings of the training session were also provided.
Getting the most out of the advanced features
BFSTC staff were familiar with making basic pages, but a straight copy-and-paste would only result in the same site content, albeit with more modern styling and mobile compatibility. To avoid a "garbage in, garbage out" situation they needed to leverage the new features made available to them by Public Platform.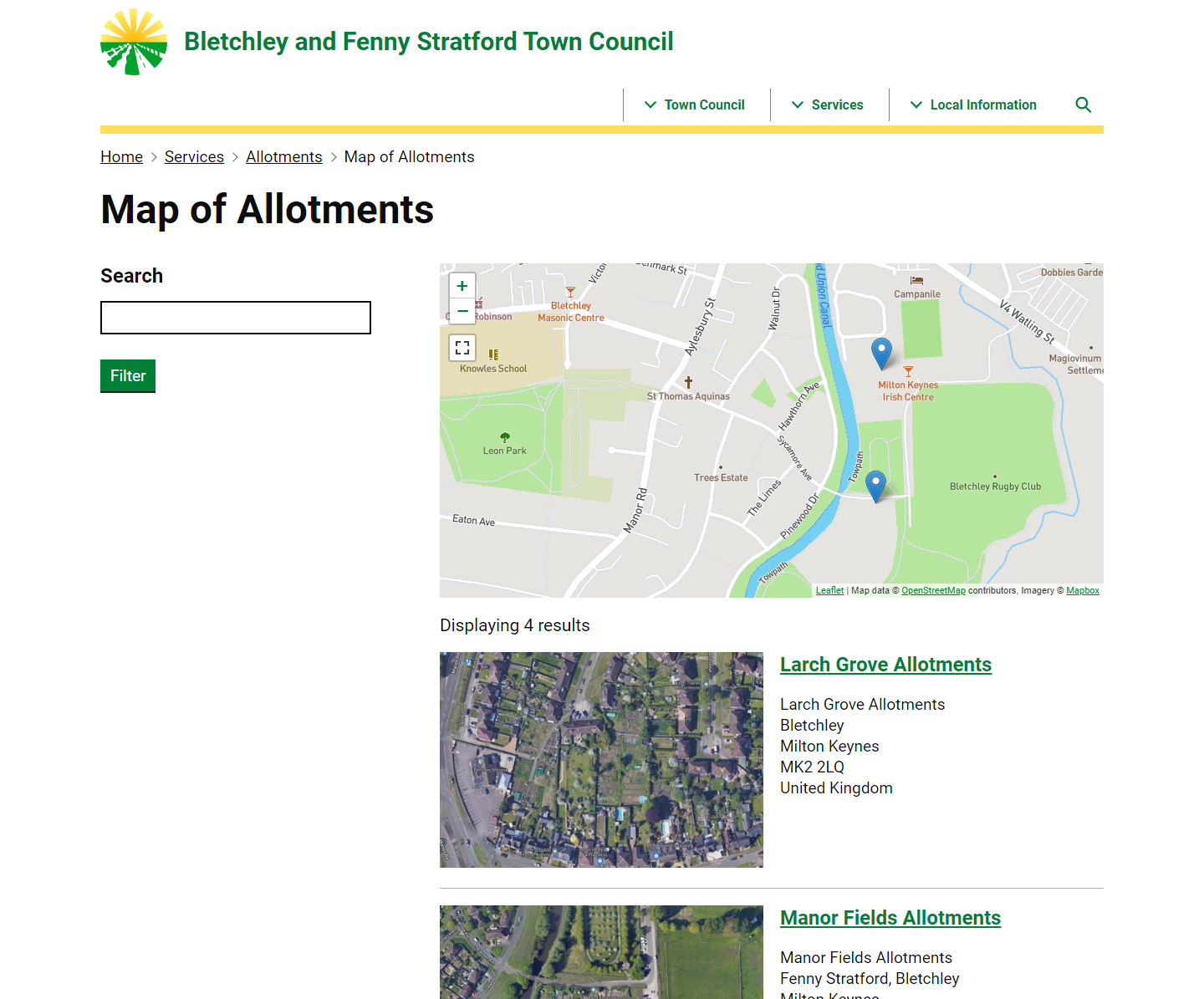 By following our examples, BFSTC staff were able to expand their Allotments section into a directory of individual allotments with an interactive map.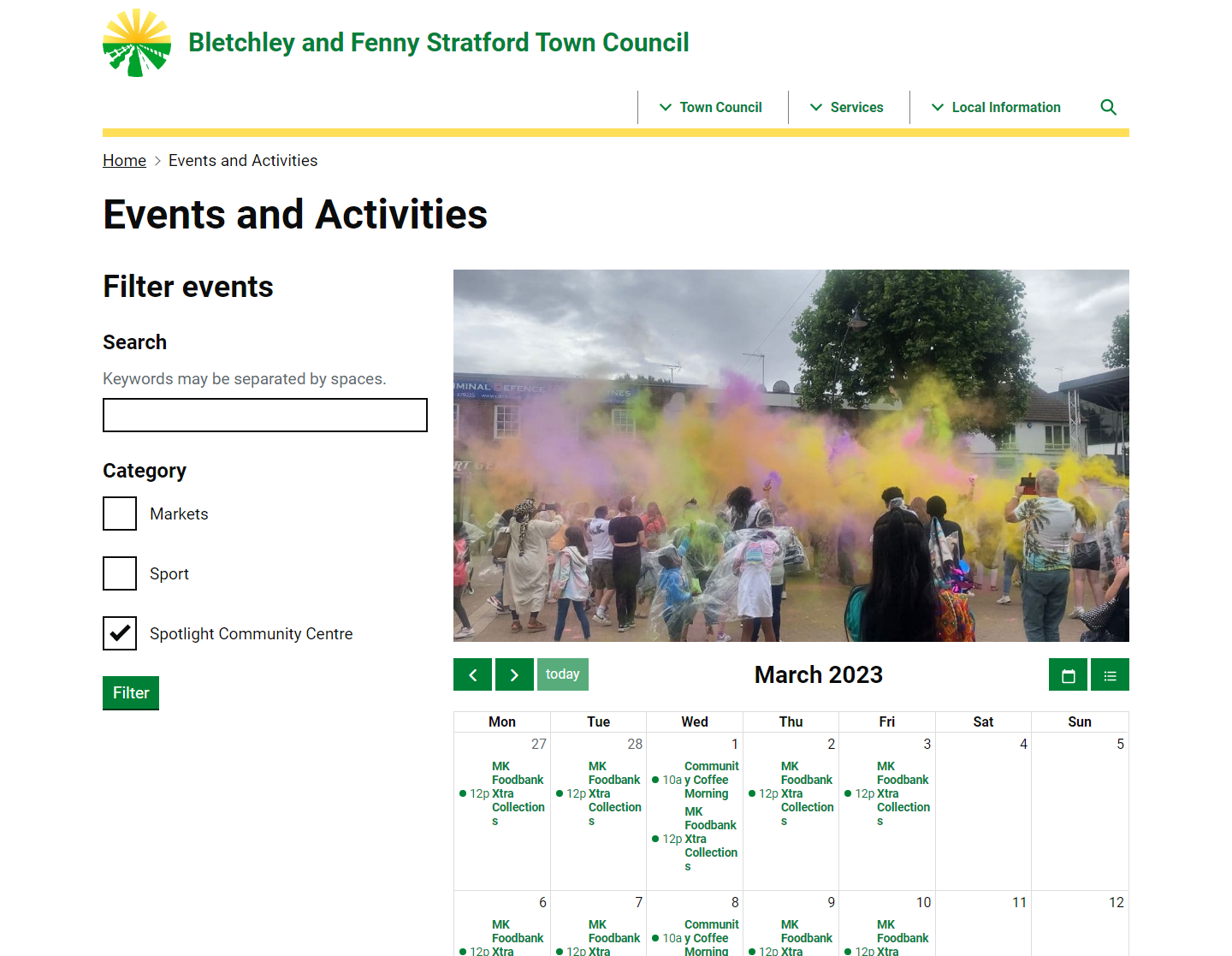 Their list of events was now displayed on a filterable and searchable events calendar.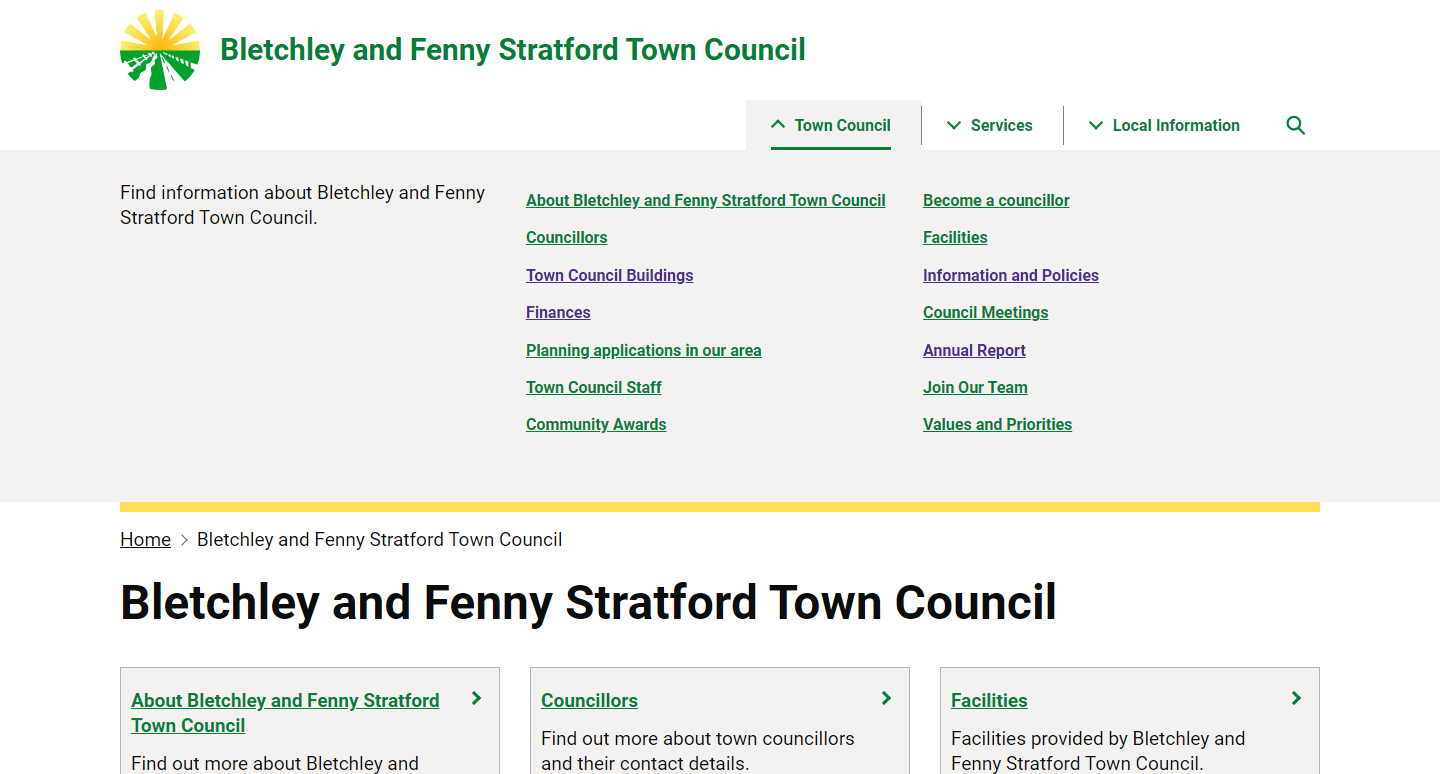 There were many pages BFSTC wanted listed in the navigation menu, but this time they could add it to a GOV.UK Design System derived mega-menu that had been created for the site.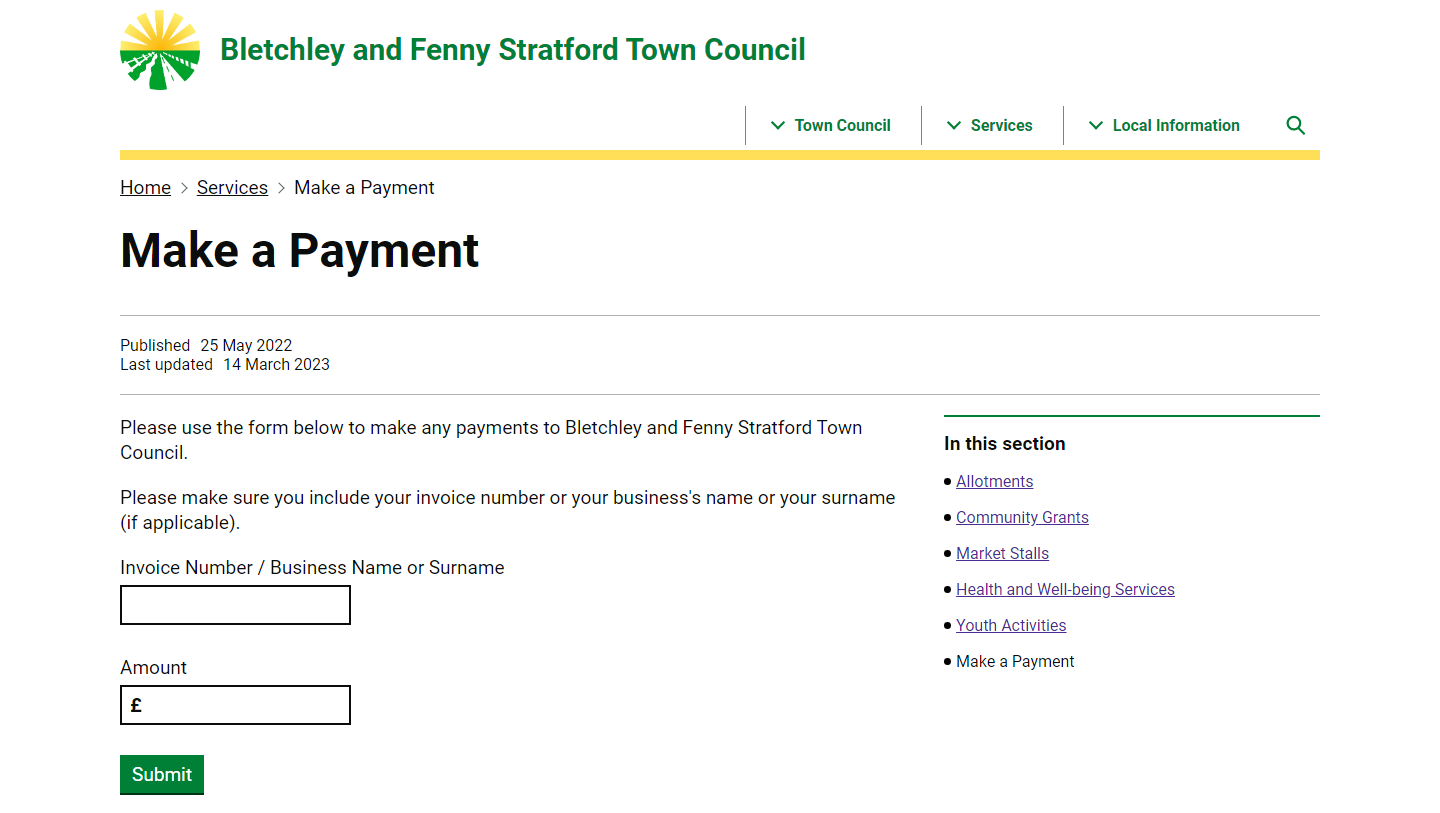 BFSTC handled invoice payments via WorldPay. By integrating this 3rd party payment system with Public Platform's webform builder, a simple form could be used to process payments rather than having to transfer users to an unfamiliar 3rd party site.
On top of this, this town council site had integrated newsletter sign-ups, social media buttons, and automated metadata and breadcrumb creation for SEO.
We worked closely with the team, providing feedback and notes on content as it was added. Approximately three days were spent working with the BFSTC team, assisting with any questions and providing feedback on best practices.
Conclusion
The Bletchley and Fenny Stratford Town Council project was quite unique as the initial training was a lot shorter than normal, with a lot more support being provided proactively as the site administrators built out the site. This approach worked well and allowed common accessibility issues, such as converting images with large amounts of text into "real" text and an image, to be addressed quickly and reduce the accessibility debt before launch.
Summary of Project Timings
Project start date: 17th February
Go Live date: 22nd August
Total time spent on project: 13 workdays
Total elapsed time: 6 months