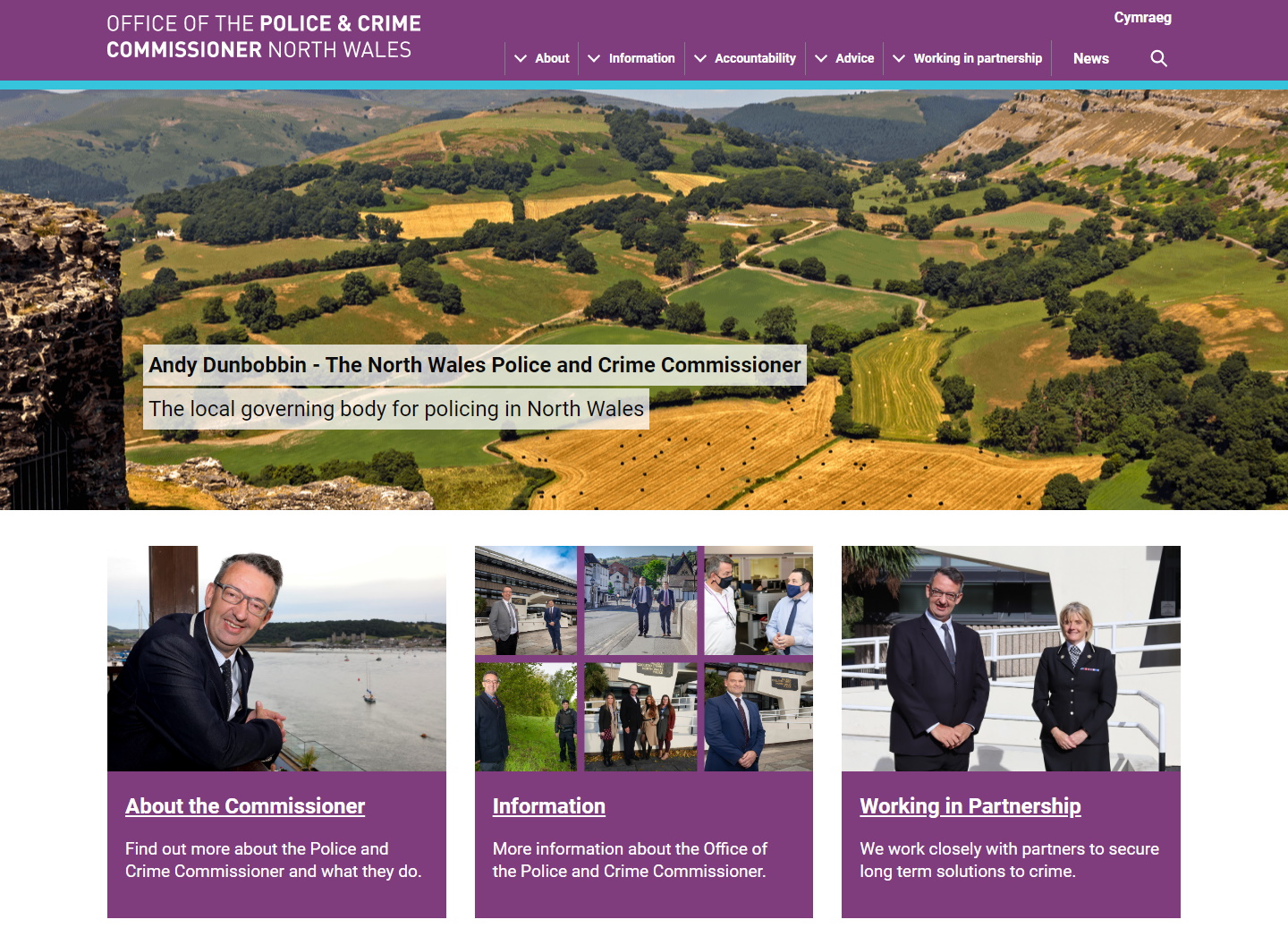 "Zodiac Media provided a good service throughout the process of delivering our new bilingual OPCC website, from design through build, to launch. They also support us with ongoing maintenance and the addition of new features if these are needed. We have had several compliments on the improved design, feel, and functionality of the website from a number of different sources, both within public service and the general public. We would recommend their Public Platform service for similar organisations in need of a new or improved website."

Office of the Police and Crime Commissioner North Wales
The Office of the Police and Crime Commissioner North Wales (NW-PCC) wanted to upgrade its corporate website from Contensis to a new Content Management System (CMS). A migration of content would be required, as well as providing yearly maintenance and hosting to ensure the security.
Having built bilingual site builds before, we knew Public Platform would be a great fit for their requirements and that we would be able to provide a site ready for content population in a matter of days.
Identifying the key requirements
Fully bilingual website in English and Welsh (no Google Translate).
Easily editable, fully accessible and compliant.
Content should be quickly found and accurate with easy navigation.
Website should be scalable and have room to grow as needs develop.
Training should be provided to all relevant NW-PCC staff.
Getting the site ready for content population
The first step was to spin up a "one-day installation" of Public Platform. As Public Platform is offered as software as a service, it is feature rich from day one, meaning little to no bespoke development is required.
Public Platform theming layers allowed the site to be quickly customised. The first layer is the styling of the GOV.UK Design System, allowing site elements to benefit from a trove of user-interface best practices. The next layer is an integral "glue layer" maintained by our developers. The top-level layer that rests on top of this is the site-specific theme that can be worked on by anybody, and allows total customisation of appearance of sites. Brand colours and typography were added quickly and easily.
The site was ready for content population within two days.
A site of two languages
This was the second bilingual site developed with Public Platform, so we were confident we would be able to deliver on our promises.
Public Platform's powerful what-you-see-is-what-you-get (WYSIWYG) editor allows for the easy creation of translations by site users. Every piece of content has a "translation" tab that when clicked creates a duplicate of that content and assigns it to a language, in this case English or Welsh. The content can then be replaced with its translated version.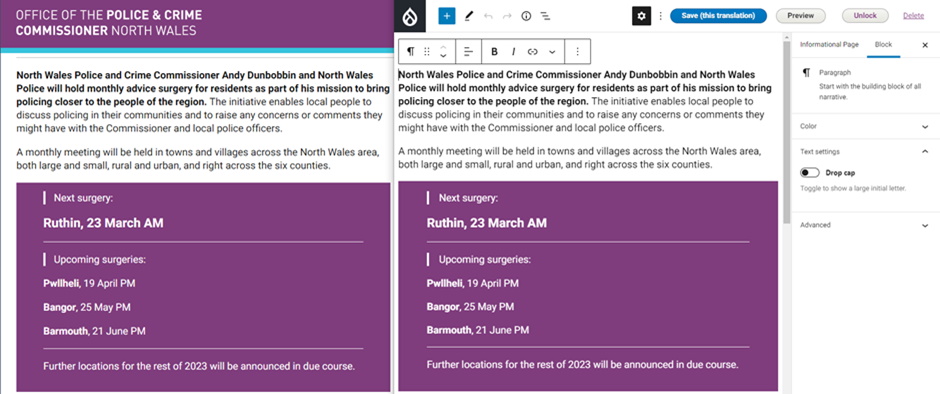 These translations occupy the same position in the site hierarchy, but which one is displayed depends on what language the user has selected. This extends to the choice of language for admin menus, ensuring no language is given priority over the other.
Adding a second language added an extra day's worth of development time, with the biggest obstacles being translating the site logo and adding the missing translations for normally hard-coded strings such as dates, errors, and warnings. Working closely with the team at NW-PCC we were able to address any missing translations by maintaining a log of all page URLs and their translations.
Full content migration
As with any website, the content is the most important component. Due to the limitations of the old CMS, it was decided we would use a hybrid of automated and manual migration to copy across the content from the old site into the new site.
To kick off the process, an SEO spidering tool was used to comprehensively crawl the site. The generated report was used to create a spreadsheet for all existing content to be reviewed and categorised. The results were also used to create redirects for old paths so that any SEO from backlinks was not lost during the switchover.
Manually migrating the content allowed it to be reviewed and improved as it was added. All content was copied from the old site into the WYSIWYG editor. Missing translations were flagged by us and updated by NW-PCC as required.
Using Public Platform's inbuilt web scraper-based migration tool, we were able to migrate all 524 news articles in around 30 hours.
In total, around 26 days were spent migrating 750 pages and 1400 documents and images.
With built in accessibility tools and the ability to run page audits with our Publica11y service, pages could quickly be checked for any compliance failures. Content editors were then able to find and resolve issues themselves.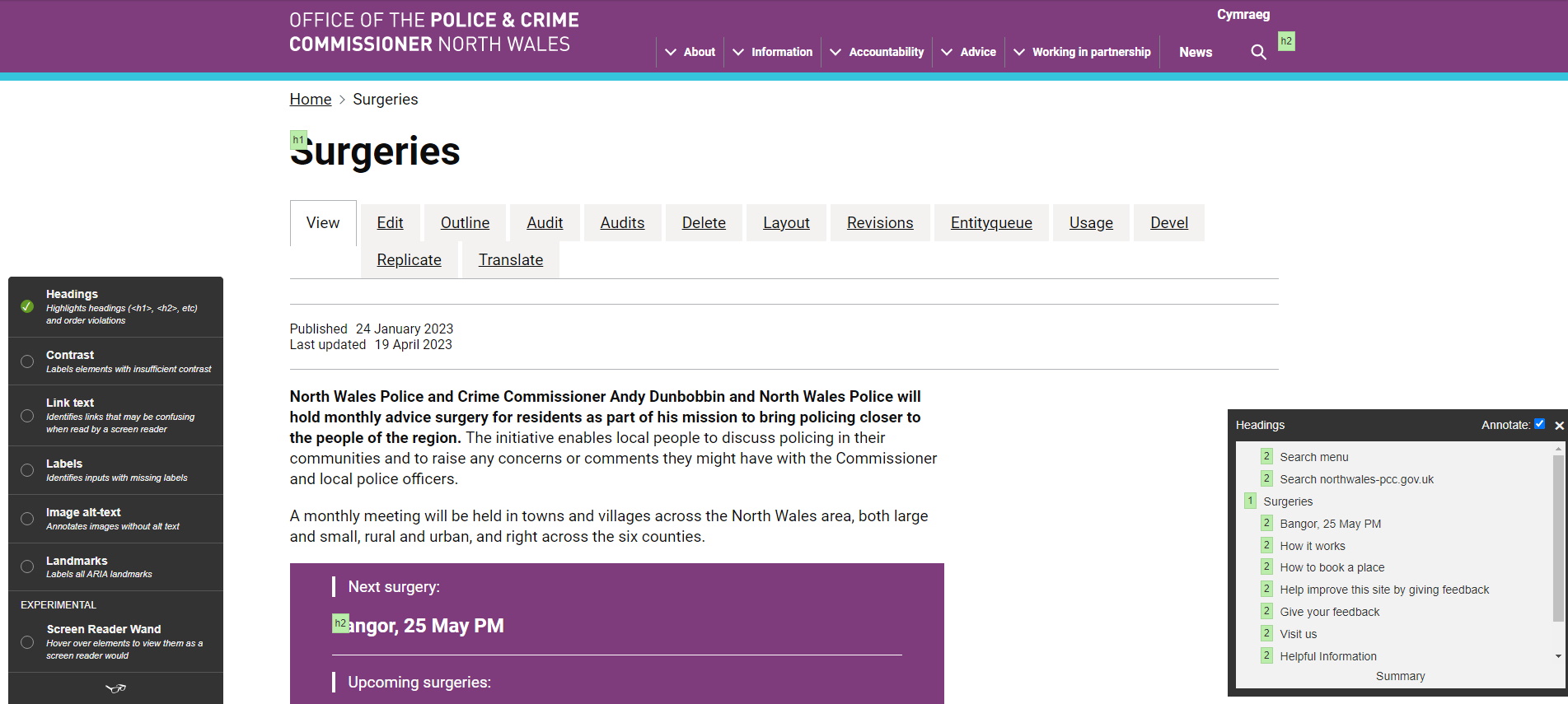 A scalable solution
Thanks to Public Platform being offered as a "software as a service", it is constantly being developed and updated. Security updates are added as they are released.
Using feedback from all users of Public Platform, improvements are constantly being made for the benefit of all those using the platform. There is a new release approximately every month, with new features made available to all clients for free. Since the site went live and at the time of writing, the site has already benefited from eleven Public Platform releases.
With a wealth of compatible third-party plugins, we are confident Public Platform will be able to scale up with NW-PCC's needs.
Training and documentation
Tailored training is provided with all Public Platform sites. Most site users benefit from between half a day to a full day's training. We opted for a full day of training with this site broken into two half day sessions.
This allowed us to cover the more advanced features of the platform with the site admins, and hold a separate, less technical training session for content editors. A Microsoft Teams call was set up for this so that the sessions could then be recorded and shared with all involved.
As well as training all potential site users, access is provided to the Public Platform documentation site. This site contains documentation, videos, and illustrated tutorials on how to use the site. The documentation is regularly reviewed and updated as new features and functionality are added.
Summary of Project Timings
Project start date: 9th March
Go Live date: 9th June
Total time spent on project: 41 workdays
Total elapsed time: 3 months